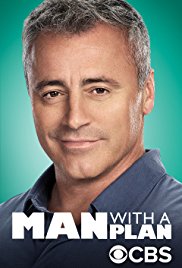 Download all episodes
Adam and Marie shared obligations on the traditional way: he earns money, providing the family with all necessary things, and she has to take care of their children, tidying up home and waiting for her husband with hot dinner in the evening.
But when the woman is fed up, she says it's time to make a career, shifting the household chores to Adam's shoulders. Now the father of three kids gets a chance to feel all he concidered the easiest task in the world – the role of a housewife. It forces the man to revise his previous point of view on children bringing up, because they start disobey and torture him.
Original Title: Man with a Plan
Country: USA
Release Date: 2017
Genres: Comedy
Creator: Jackie Filgo, Jeff Filgo, Double Double Bonus Entertainment, 3 Arts Entertainment, CBS Television Studios
Cast: Matt LeBlanc, Liza Snyder, Matt Cook, Grace Kaufman, Matthew McCann, Hala Finley, Diana Maria Riva, Kevin Nealon, Jessica Chaffin, Kali Rocha
Runtime: 30 min
Language: English
Trailer: