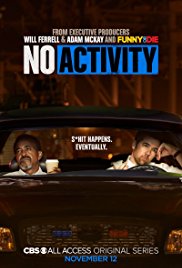 Download all episodes
The main charachters of the series are two police officers who have spent too much time in the same car on patrol. Detectives Judd Tolbek and Nick Cullen are now to solve a mysterious case involving drugs.
They decide that the best decision of handling the drug cartel case, is to spy from their patrol car. Whilst they sit in their car the mexican criminals try to dig a underground tunnel to outsmart the police. But even they struggle to get along with each other and their plan begins to fail. So while the police officers lazily wait for new movements, the drugdealers have a hard time following their initial plan.
Original Title: No Activity
Country: USA
Release Date: 2017
Genres: Comedy
Creator: CBS Television Studios
Cast: Tim Meadows, Patrick Brammall
Runtime: 30 min
Language: English
Trailer: