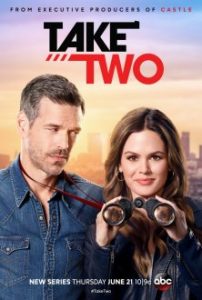 Download all episodes
Sam is a smart and beautiful TV star. But her glory is far in the past. She had a great success and a lot of fans few years ago but now her life became boring and she dreams to become famous again. She is sure that her the only chance to get that glory back is to get the main role in a new detective series.
For this she has to understand the real life of detective. So she decides to become an assistant of one professional private detective. Eddie knows his business and get used to do everything perfect. Of course in the beginning young people can hardly get along with each other. But after some period of time Eddie can see, that Sam is smart, hardworking and very useful.
Original Title: Take Two
Country: USA
Release Date: 2018
Genres: Comedy, Crime, Drama
Creator: Andrew W. Marlowe, Terri Edda Miller
Cast: Rachel Bilson, Eddie Cibrian, Xavier de Guzman, Aliyah O'Brien, Alice Lee, Jordan Gavaris
Runtime: 43 min
Language: English
Trailer: