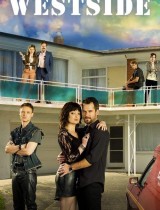 Download all episodes
Do you believe in love? Do you really think that true love can succeed all problems and troubles.
Our main characters from "Westside" Rita and Ted share with us their story. Their life is extremely difficult, but they are together and always support each other. The Wests family just wants to be happy and live in peace. And every moment they face new challenge and can only dream about quite life.
They must take important decisions, solve problems with foreigners. This is the most anticipated family reunion ever, because there you will see everything: sex, thugs and thieving. Exciting end of the film deserves your attention and time.
Original Title: Westside
Country: New Zealand
Release Date: 2018
Genres: Drama
Creator: South Pacific Pictures
Cast: Antonia Prebble, David de Lautour, Daniel Musgrove, Esther Stephens, Todd Emerson, Pana Hema Taylor, Sophie Hambleton, Xavier Horan, Will Hall, Patrick Tafa, Jordan Mooney, Caleb Wells, Reef Ireland, Kirsten Ibbetson, Glen Levy
Runtime: 60 min
Language: English
Trailer: