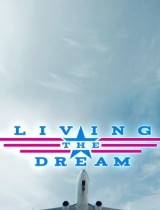 Download all episodes
Yorkshire is a beautiful city located in the north of England, which for many years was the home for the Pemberton family. But everything changes when they decide to change their lives and move to the USA .The Pembertons want to make themselves comfortable there and to start a business of caravan rental service.
However, things don't go as they expected : the potential clientele are anything but enthusiastic about the British newcomers. The family struggles to even have a good relationship with their neigbours, who turn out to be not so friendly. Thats when their children decide to help out their family: Tina and Freddie start making friends and try to introduce themselves as good People and a friendly family.
Original Title: Living the Dream
Country: UK
Release Date: 2017
Genres: Drama
Creator: Big Talk Productions
Cast: John Crosby, Regina Curtin, Michael Ray Davis, Rosie Day, Kim Fields, Philip Glenister, Leslie Jordan, Perla Middleton, Kevin Nash, Brenock O'Connor, Lesley Sharp, Randy Havens, Skylar McNamee, Pat Yeary, David de Vries, Daniel Guttenberg, Jane McNeill, Daryl Shorter, Haviland Stillwell
Runtime: 45 min
Language: English
Trailer: