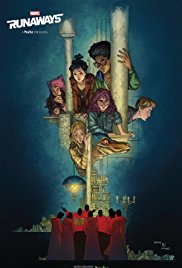 Download all episodes
Six teenagers unexpectedly get to know that their parents were cheating them, concealing the terrific truth. In fact both – mother and father – were a part of the "Pride", a community of complete scoundrels. People detested them for dirty deeds, trying to avoid any contacts. After digesting the nasty information, the children make a right choice to their minds, escaping from home.
But the runaways can't hide forever, and the offended parents will find them. What may happen to the naughty children, who weren't frightened of the adults' blind fury? It is unlikely they will forgive their offsprings' treason.
Original Title: Runaways
Country: USA
Release Date: 2017
Genres: Action, Drama, Sci-Fi
Creator: ABC Studios, Disney-ABC Domestic Television, Hulu
Cast: Cody Mayo, Gregg Sulkin, Kevin Weisman, Nicole Wolf, Ryan Doom, Allegra Acosta, Ariela Barer, Brigid Brannagh, Ever Carradine, Zayne Emory, Rhenzy Feliz, Virginia Gardner, Brittany Ishibashi, James Marsters, Lyrica Okano, Kip Pardue, Angel Parker, Ryan Sands, Annie Wersching, James Yaegashi
Runtime: 60 min
Language: English
Trailer: