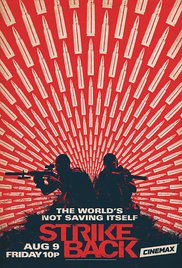 Download all episodes
In the beginning of the twenty first century Iraqi campaign had difficulties, connected with saving people, who were inprisoned by local extremists. Some troops left the dangerous region, but the rest stuck in the heart of the conflict. In one of such fights the sergeant Porter had a mission to set several hostages free. Though he tried to do his best, a couple of the soldiers from his division died. That caused Chris's release, so the man suffered from heavy thoughts.
Seven years passed, the things got changed. Porter's subordinate, who had a finger in that unfortunate affair in Iraq, became a big boss in MI6 secret service. He offers to the ex-officer a trip to Iraq, where they are preparing a new operation.
Original Title: Strike Back
Country: UK
Release Date: 2017
Genres: Action, Drama, Thriller
Creator: Left Bank Pictures, Cinemax, Sky
Cast: Philip Winchester, Sullivan Stapleton, Michelle Lukes, Robson Green, Rhashan Stone
Runtime: 45 min
Language: English
Trailer: