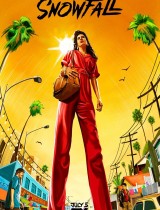 Download all episodes
The story hidden from the public observing "the cold war" that tells about cocaine wave raised in 70th and 80th. It goes deep to the details of relationship between main narco bosses in Mexico and Columbia.
From the other side of story we meet with African American teenager from the poor family trying to get out of poverty selling white powder. But when he comes to know that in his districts people are just not able to afford this expensive drug, he is organizing a small laboratory, where creates the cheaper version of cocain for the poor – "crack".
Original Title: Snowfall
Country: USA
Release Date: 2018
Genres: Crime, Drama
Creator: Eric Amadio, John Singleton, Dave Andron, Groundswell Productions
Cast: Damson Idris, Amin Joseph, Isaiah John, Michael Hyatt, Emily Rios, Carter Hudson, Sergio Peris-Mencheta, Juan Javier Cardenas, Filipe Valle Costa, Angela Lewis
Runtime: 44 min
Language: English
Trailer: